(Setlist de The Cure durante la primera de las tres noches consecutivas en el Hammersmith Eventim Apollo de Londres)
El legendario grupo británico The Cure comenzó sus conciertos especiales navideños en el Hammersmith Eventim Apollo con un primer show, compuesto por 40 canciones, cargado de sorpresas inesperadas para los miles de fans que abarrotaron el emblemático teatro londinense.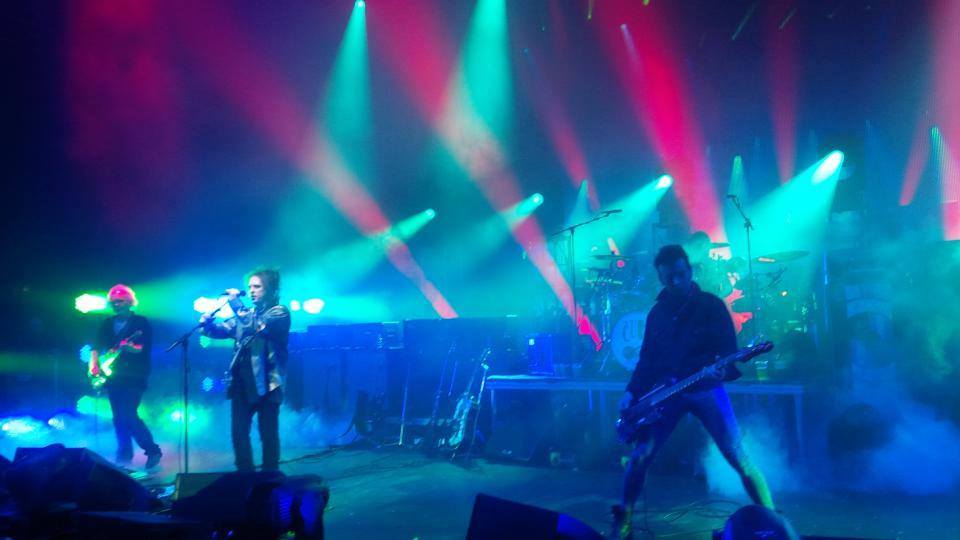 (The Cure al completo sobre el escenario del Hammersmith londinense)
Un concierto, que contó con los teloneros de lujo "And Also The Trees", donde se interpretó íntegramente el clásico álbum de The Cure "The Top", donde debutó por primera vez en directo la legendaria Cara B "A Man Inside My Mouth" o retornaron al directo, una eternidad después, gemas del calibre de "Kyoto Song", "Piggy in the Mirror", "M", "Charlotte Sometimes", "Like Cockatoos", "Hey You" o rarezas como "Wailling Wall" o "The Empty World" no interpretadas desde 1984.
(Robert Smith en el Hammersmith Eventim Apollo. Noche 1)
Este fue el Setlist interpretado por The Cure (21.12.14):
Setlist: Shake Dog Shake, Kyoto Song, A Night Like This, alt.end, Wailing Wall, Bananafishbones, The Caterpillar, The Walk, A Man Inside My Mouth, Close to Me, Lullaby, High, Birdmad Girl, Just Like Heaven, Pictures of You, Before Three, Lovesong, Like Cockatoos, From the Edge of the Deep Green Sea, Want, The Hungry Ghost, One Hundred Years, Give Me It
1er Bis: The Empty World, Charlotte Sometimes, Primary, The Top
2o Bis: Dressing Up, Piggy in the Mirror, Never Enough, Wrong Number
3er Bis: Three Imaginary Boys, M, Play For Today, A Forest
4o Bis: The Lovecats, Let's Go to Bed, Why Can't I Be You?, Boys Don't Cry, Hey You.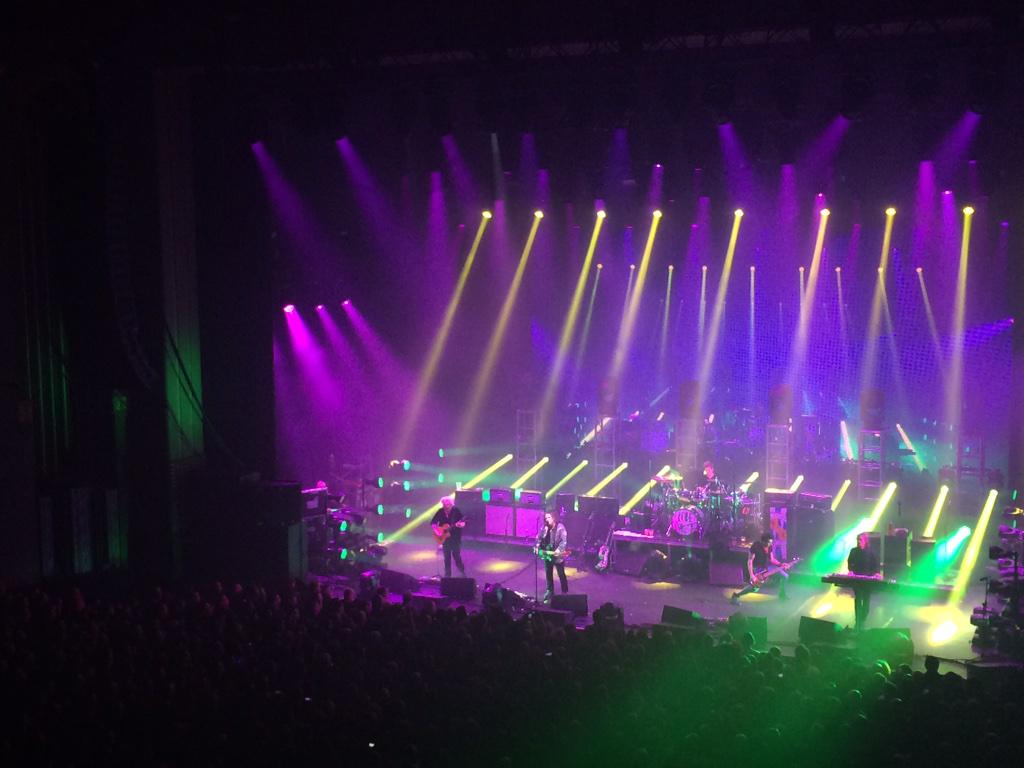 (The Cure desde el anfiteatro del Hammersmith en la primera noche de sus conciertos navideños)
Un concierto, cuyas actualizaciones, fueron seguidas por cientos de miembros de HispaCure a través de nuestras páginas oficiales en Facebook y Twitter. A través de las diferentes páginas oficiales de nuestro colectivo, podrás tener acceso a multitud de Fotos, Vídeos, Críticas y Crónicas sobre estos especiales shows que pondrán un broche de oro al año 2014. No lo dudes y visítanos! Te esperamos en los conciertos de los próximos días 22 y 23 de Diciembre.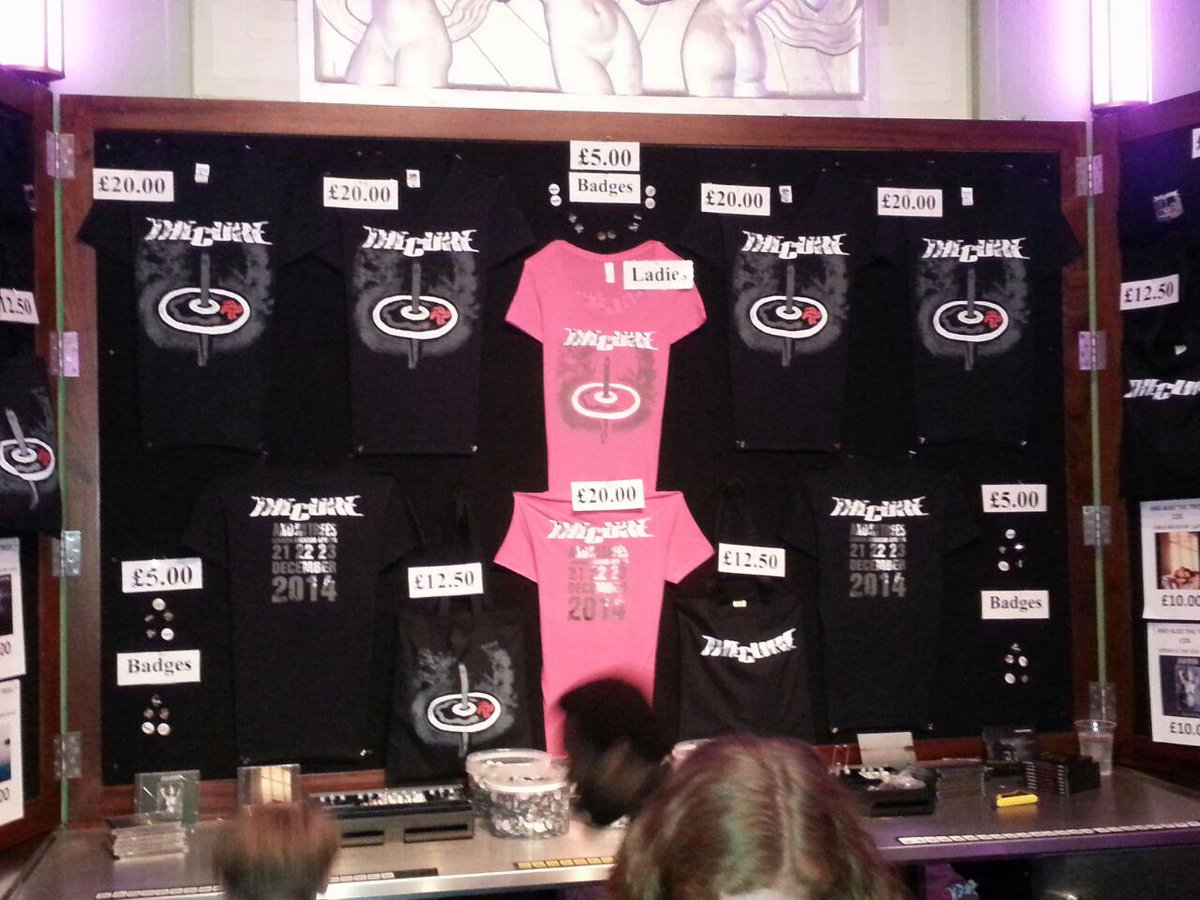 (Merchandising Oficial para los conciertos del Hammersmith. Cortesía de Andreas de cureconcert.de)
Recuerda que puedes seguir actualizaciones en directo a través de las diferentes páginas oficiales de nuestro colectivo. Setlists, Vídeos, Audios, Fotografías, Críticas y Crónicas (también de nuestros compañeros hispaCurados desplazados) en la Página Oficial de HispaCure en Facebook:
https://www.facebook.com/groups/10641696704/
(Lote completo de nuestra compañera en hispaCure Esther Fernandez tras el primer show en el Hammersmith)
Twitter de nuestro colectivo (@hispacure):
http://twitter.com/#!/hispacure
Y en el Foro Oficial de hispaCure: